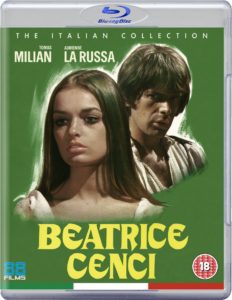 The Blu-ray of BEATRICE CENCI (1969; US title: THE CONSPIRACY OF TORTURE), starring Adrienne La Russa and Tomas Milian, was released recently. Directed by none other than Lucio Fulci. Even if the Fulci name guarantees interest in many Eurocult fans out there, this release still signals a new phase of European titles becoming available in HD. This movie is not really as famous as other Fulci titles so it's nice to see it get such a great treatment. Just to give you an idea, there are only 8 reviews for this movie at IMDb. Pretty low for a Fulci title. The movie is grim. Really grim. But I like it. The cinematography is especially noteworthy.
The story of BEATRICE CENCI was filmed many times. There has been 5 different movies made. There was one in 1956 with Micheline Presle in the titular role. This one is decidedly different in that it's quite violent and fleshy. In probably the most shocking scene in the movie, Tomas Milian's character is repeatedly torture, in the nude (see screenshot below).
There are so many titles that need to be release, such as LUCREZIA GIOVANE (1974). Maybe with this release other neglected titles will get the green light.