When HERCULES, the Steve Reeves classic, was released in 1958 around the world, the name Joseph E. Levine wasn't featured on any posters, lobby cards or even during the opening credits. Levine eventually purchased the rights for the movie for distribution in North America and he made a fortune since it became a success in the US. But the movie was also a hit around the world sans Levine's help.
HERCULES was distributed in Britain (presumably the UK) by Archway Film Distributors. Below are some of the advertising and lobby cards of this release.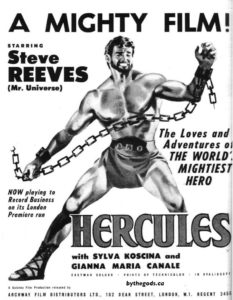 This looks like the cover of a press book, and if not then it's the ad shown in print (newspapers, magazines, etc). It's really cool since:
1 – Joseph E Levine's name doesn't appear anywhere on it.
2 – It states that the movie is making 'record business' on its premiere run
3 – It has, in very small print, the name of the original Italian film company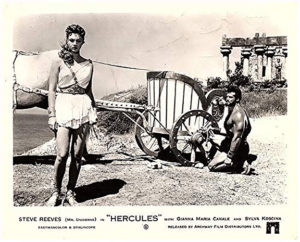 The photos for the lobby cards set are mostly different than the US one. Unfortunately, there are no dates on them.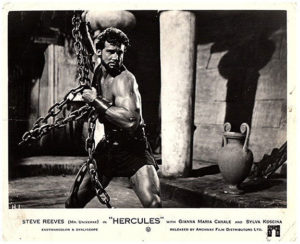 Stuff from the UK is interesting in that titles released directly to TV in the US were actually released in theatres in the UK. And most often than not their titles differed from the (goofy) ones for the US. In this case though, the title for the US and UK distributions were the same.