As I reported back on November 8, 2019, the Blu-ray edition of GOLIATH & THE VAMPIRES (1961) was announced. The movie is retitled as SAMSON & THE VAMPIRES but regardless, it was great news. 6 months later the movie hasn't been released yet. No additional info. Nothing.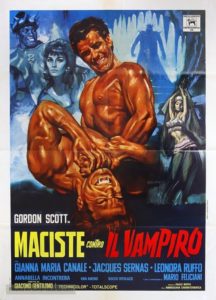 It seems the original prints needed major restoration but they should have some short clip to give us hope or an idea how it's going to be. I'm starting to think it'll never get released. It's one thing to announce it and it's another to have some updates on it. Maybe a sneak peek? Kino Lorber is a good company but this wait is getting ridiculous. The title is not even listed as a pre-order at KL's website, and titles listed there go all the way to the middle of August.
On a side note, I uploaded this movie on PEPLUM TV Youtube channel but I had to pull it out of circulation because of some dubious copyright claim. I've uploaded it on all of my previous Youtube channels without any issues. I'm thinking this was done in preparation for the upcoming Blu-ray release but now it's been so long that what was the point of claiming it nearly a year ago?