NERO & POPPEA – AN ORGY OF POWER (1982) is one of many notorious sex / shock movies released in the wake of CALIGULA (1979). Though this Bruno Mattei movie is not on the same scale as the massive Tinto Brass / Bob Guccione sex epic, it's still has its outrageous moments.
I recently acquired an Italian VHS copy of it and to my surprise many scenes were cut and others were changed to cover up the nudity in some scenes. This version still has nudity and the lurid storyline is the same but when compared to the different releases of this title I already have in my collection shows that these other versions have much more stuff going on. Much more. It's very odd to see a 'Sex & Sandal', in Italian no less, that's censored.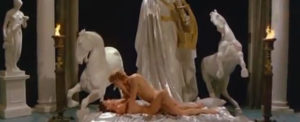 Above and below: the version showing more nudity and simulated sex (above) while the Italian version (below) has both actors covered.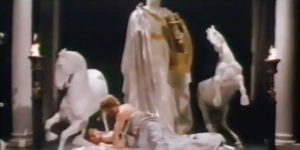 Discovering these two different copies is a good example of why it's important to view the majority all versions from different countries or releases. You never know what you'll find.
Will any of these notorious movies ever be released in HD?