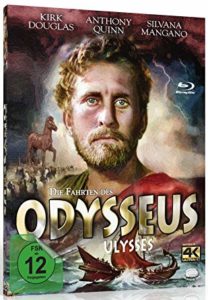 Above is the German Blu-ray of ULYSSES (1954). It comes with 2 discs: one with a HD digital transfer from the original negative, at 100 minutes runtime, and the other is of a digital transfer with additional scenes, at 109 minutes. The audio included are Italian, German and English. The Blu-ray is region B, which means it's not playable in standard Blu-ray players in North America.
On the other hand, there's a Blu-ray from Japan, @103 minutes. The cover is amazing. The only audio: Italian. The Blu-ray is Region A which means it can be played with Blu-ray players in North America.
The deciding factor would be the price: the German one is 15.99 Euro while the Japanese one is 5100 Yen, or $51.00.
I really liked the HERCULES Blu-ray from Japan and I'm tempted in getting the Japanese one. Hmm…decisions. Why are Blu-rays so expensive in Japan?