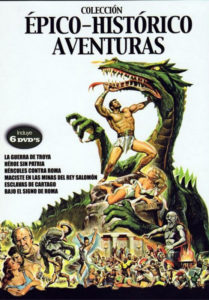 This Spanish DVD set is interesting, not only for the titles included but the cover art.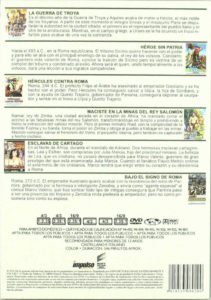 The set includes:  THE TROJAN HORSE (1961), CORIOLANUS – HERO WITHOUT A COUNTRY (1964), HERCULES AGAINST ROME (1964), MACISTE IN KING SOLOMON'S MINES (1964), SLAVE OF CARTHAGE (1956; The Sword and the Cross) and SIGN OF THE GLADIATOR (1959).
Pretty good set. Aside from the fact that the movie from which the artwork comes from is not included in the pack, what else is peculiar about it? A true PEPLUM fan would know this.
The answer:
GOLIATH & THE DRAGON was the US version of VENGEANCE OF HERCULES aka La vendetta di Ercole. VENGEANCE OF HERCULES was re-edited for the North American market and additional scenes were added, including those with Mark battling the dragon and became GOLIATH & THE DRAGON which was never released in Europe. This Spanish DVD cover shows the artwork of a movie that was never released there.