Italian director Lucio Fulci has an avid cult following: he has a legion of fans who love all his ultra-violent movies. Personally, I like many of his movies but I'm definitely not a cult-like follower. One of his lesser known title is the Sword & Sorcery called CONQUEST (1983) starring Jorge Rivera in this Italian – Spanish production. The way the movie is shot is odd: tons of filters, smoke, vaseline on the lens.  To the point where you can barely see what's going on. The movie has been finally released on Blu-ray and though the image is crisper than previous versions, from the reviews I've read and from the screenshots (below), the 'dreamy' filters still keep the image itself from ever being fully clear. It's probably one of the murkiest movie I've ever seen, PEPLUM or not. I don't hate it. It has some interesting imagery but it's more of a curio than anything else.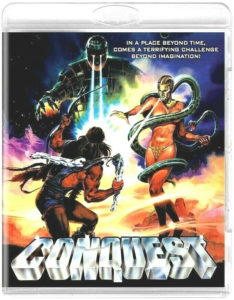 The Blu-ray edition is very rare, with only 700 copies made. The going price on eBay is at around $45 up to $70. I'll never purchase this title at this price.  The Blu-ray comes with a new artwork which I admit is pretty good. It also includes the original poster art as a second slipcover (above).
Below are screenshots of the Blu-ray (at 1280×720). Try to make out what's going on.