You can get the new BY THE GODS! magazine at MagCloud.
Go to this link: https://www.magcloud.com/browse/issue/2574706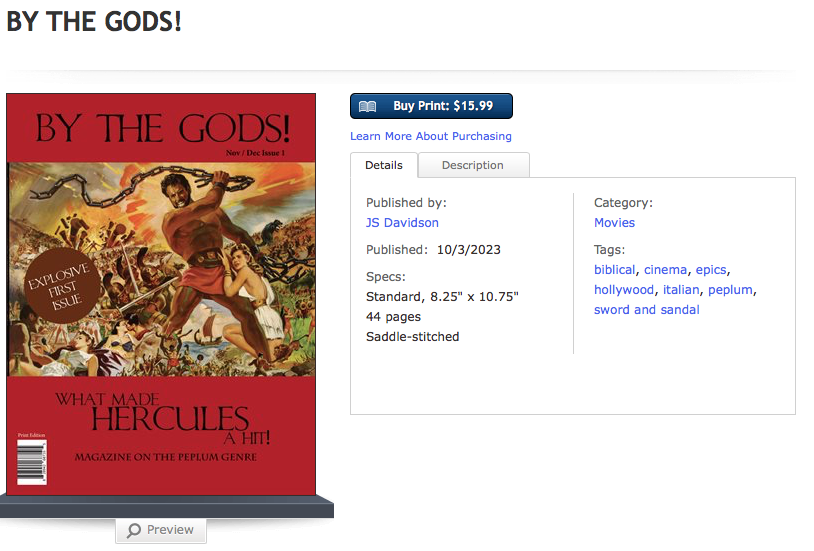 A few things about this:
For now, subscriptions are not available. MagCloud doesn't offer subscriptions. So the best way to know if there's a new issue available is to visit this blog or PEPLUM TV on a regular basis.
You can preview the contents of the magazine but personally I would suggest not to. As to keep the element of surprise.
Shipping and handling: MagCloud are the ones who decide how much it will cost to ship to your address.
There's currently a discount going on until Oct. 8. It's 15% off the regular price. The code is OCT15. I don't know if you need to have an account at MagCloud for the discount to work but personally I would create an account regardless as they'll send emails with discounts that range from 10% to 25%.
Digital copies, or PDFs,  will become available in the future, once a good number of editions have been published.
MagCloud is not affiliated with online sellers such as Amazon, which is a bummer. Eventually, I would like the magazine to be available at Amazon but for now the only place you can purchase it is at MagCloud.
You can also donate via the donate button above right, to support the continuation of the blog and this new project.
Enjoy!