A must see in widescreen!
I recently acquired two new Blu-ray editions, of HERCULES IN THE HAUNTED WORLD (1961) and REVOLT OF THE SLAVES (1960). I'll give a quick overview of the latter. I won't be reviewing the movie itself (I'll do that on the main blog) but I'll still mention a few things about the quality of the movie itself.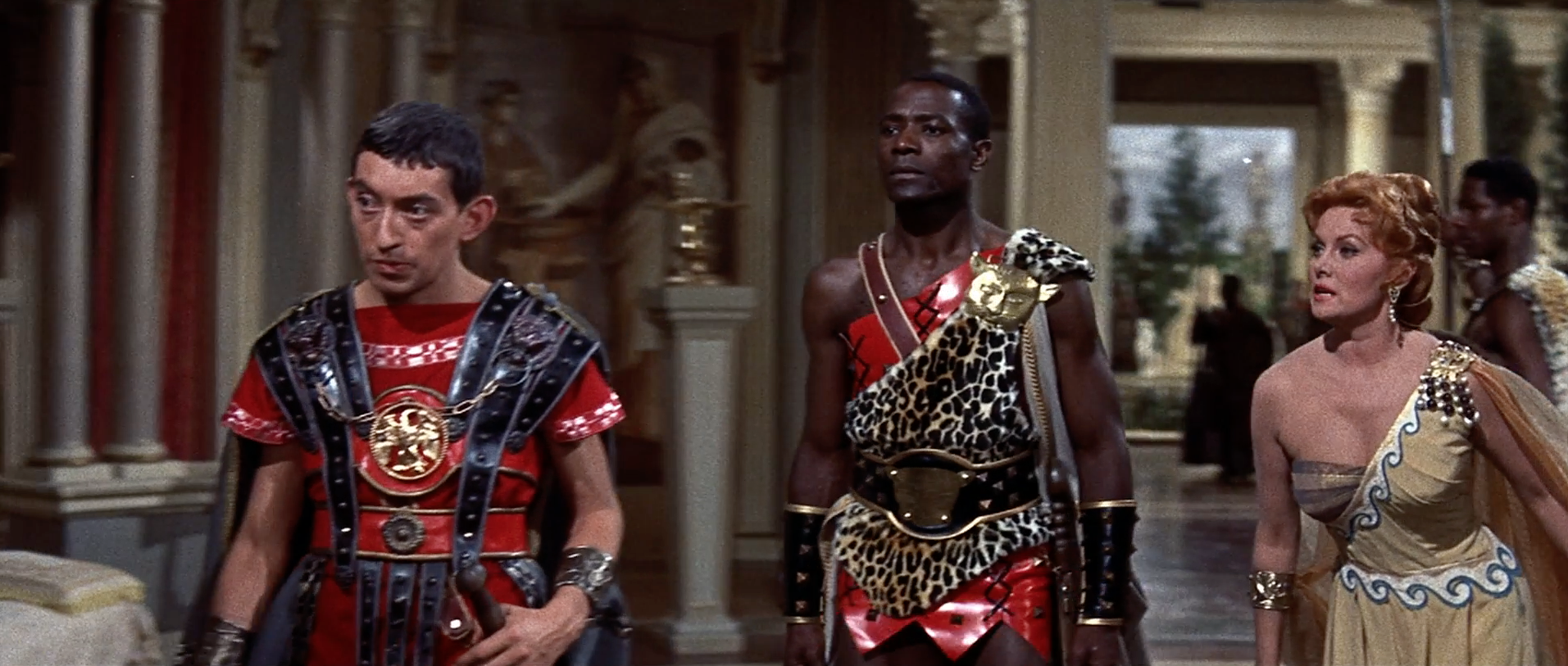 So much grain on Rhonda Fleming you'd think she was covered in freckles.
Released by KINO LORBER, REVOLT OF THE SLAVES was one of those PEPLUM movies which languished in obscurity: it never got an official VHS or DVD release. It was released on VHS by Nostalgia Family but I don't think it was legit (I have the VHS tape). And what copies were available were often in a poor state, such as the one by Nostalgia Family. I was pleasantly surprised when KINO LORBER decided to release this on Blu-ray. From their website, I suspect they did this just for Serge Gainsbourg and Fernando Rey completists, not because of their love of the PEPLUM genre.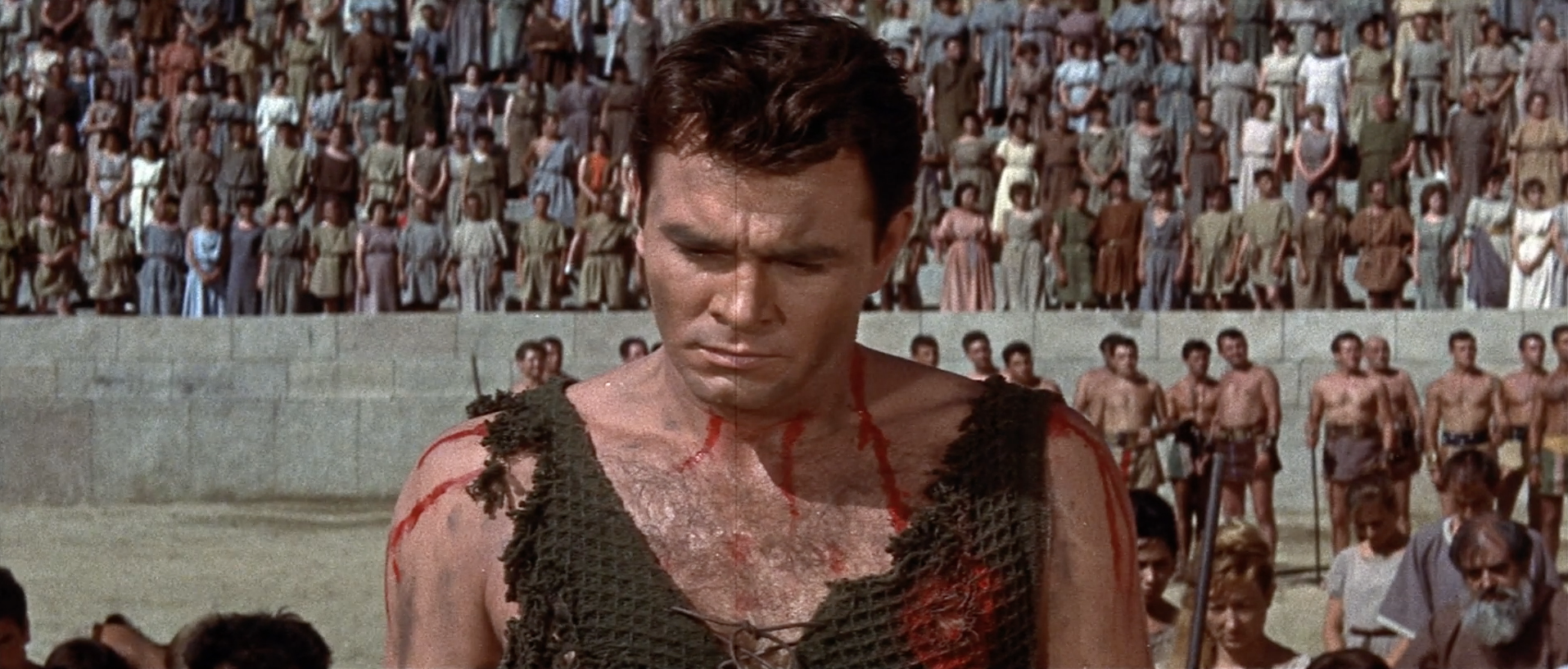 A visible scratch on the image, over Lang Jeffries' face.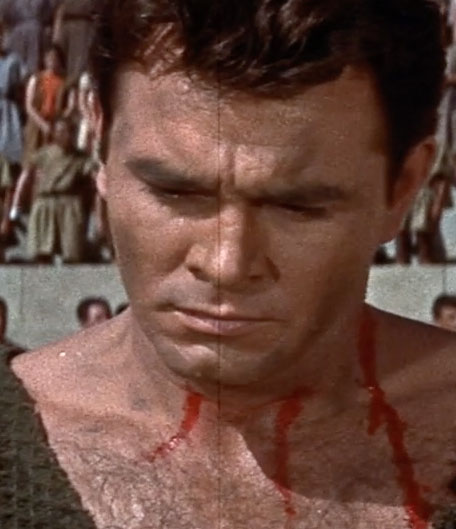 As for the image and sound quality: it's very good but both could have been better. The image is spectacular, showcasing the excellent camerawork by cinematographer Cecilio Paniagua but the grain is everywhere, and white dots and scratches are visible throughout. And the audio is very flat and weak. I wished they had punched it up a notch or two. The score is excellent (some new stuff combined with some familiar score heard in many PEPLUM movies) but the transfer doesn't do it justice.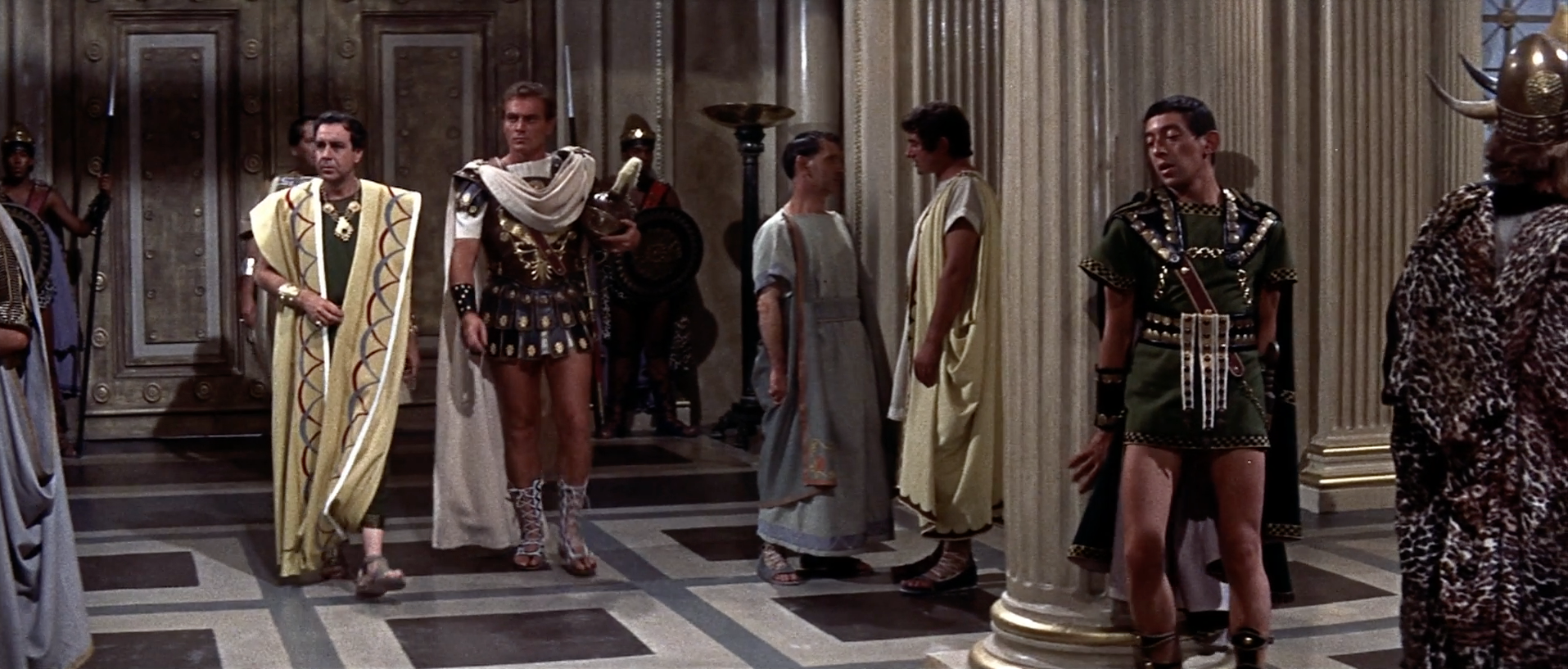 Fernando Rey, Ettore Manni and Gainsbourg.
I watched the movie from my 27″ iMac and on a HD Toshiba TV (below). The audio and image issues were present in both instances.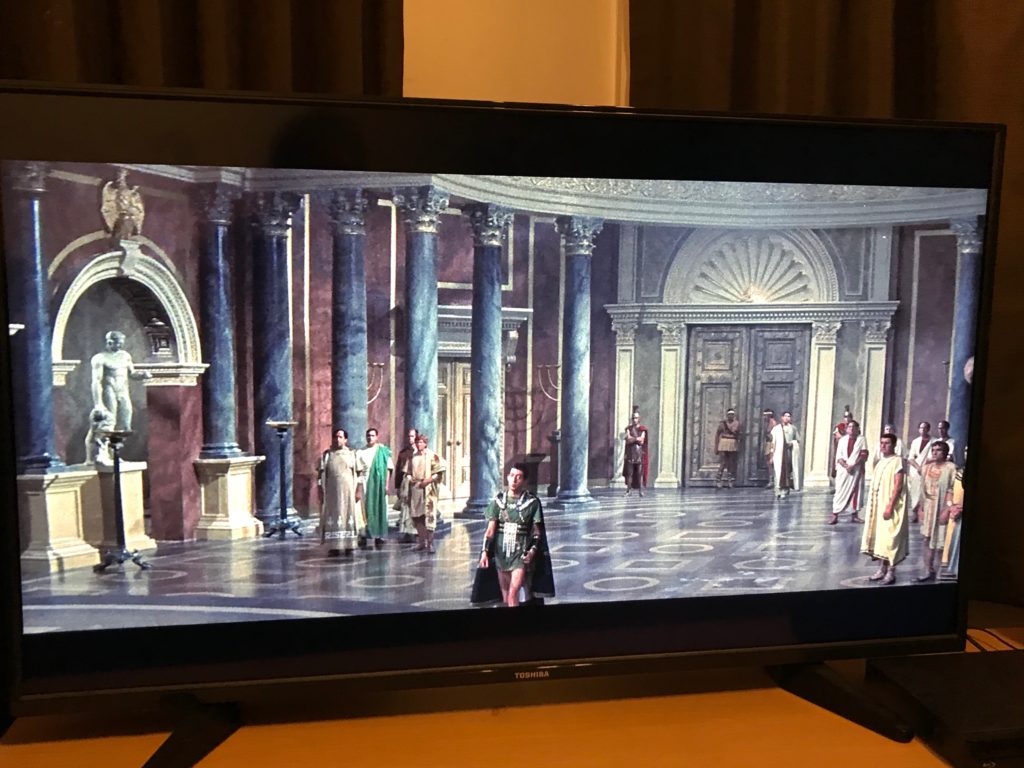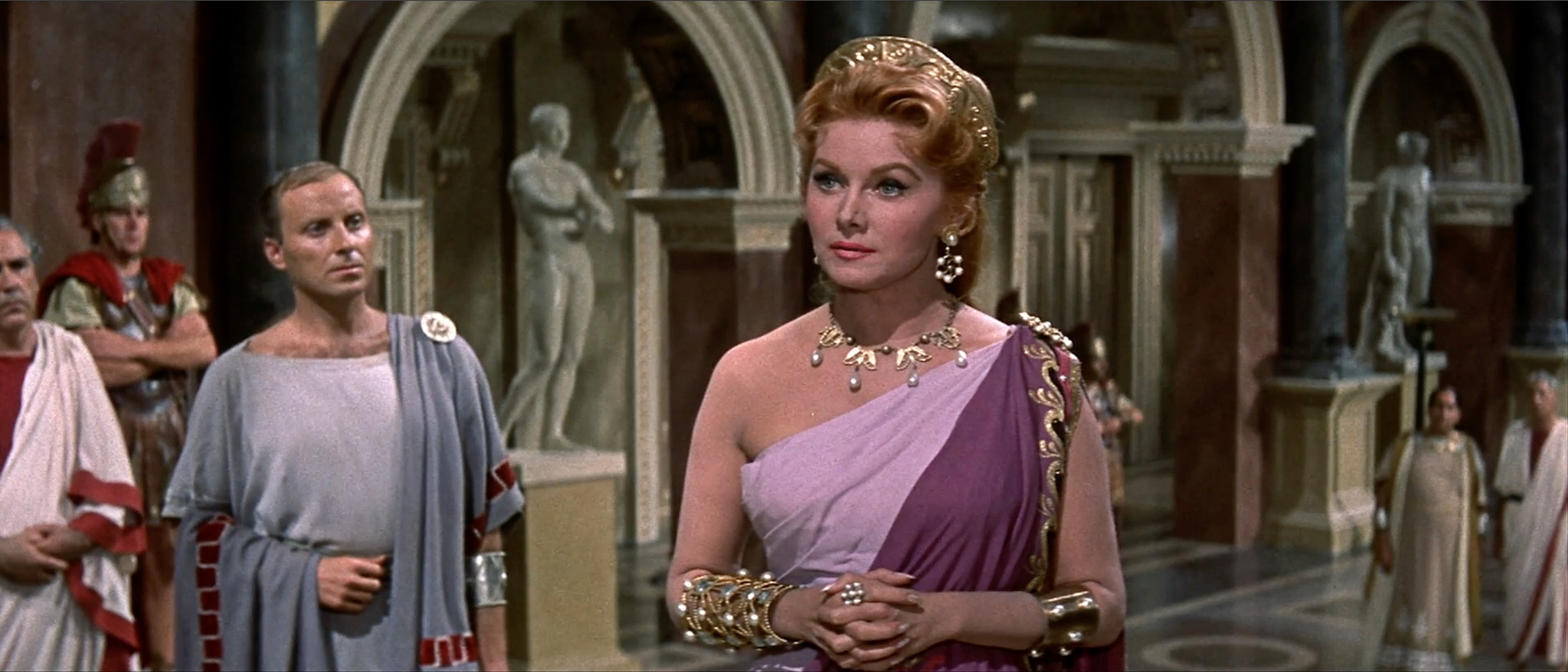 Scenes like this one really showcase the excellent composition of the camerawork.
The quality of previous versions were so bad that I shouldn't complain but when a movie is released on HD I always expect the presentation to be tops and even though this release is excellent, it's not really top. It's a shame because this is one of those PEPLUM movies I can watch over and over again.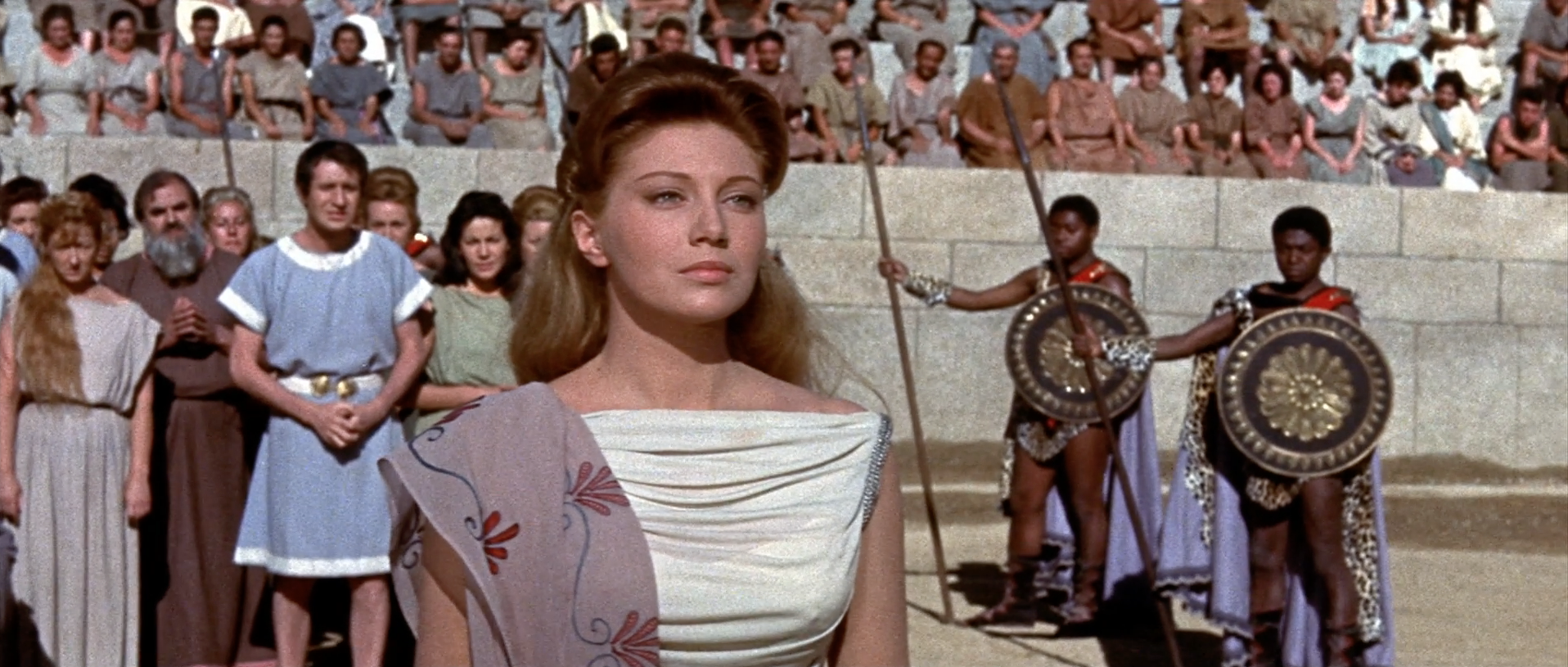 Wandisa Guida
As for the movie itself, some say it's a knock-off of QUO VADIS (1951) or FABIOLA (1949). Personally, I don't see the similarities. There could be more than a couple of movies about the same subject without having to be compared to other works. I think it stands well by itself without having to be pigeonholed in some category. It's first and foremost an action movie, which the other two epics weren't. They were big dramas with action scenes.
As for extras, there are only a couple of trailers, including the trailer for this movie. It's pretty barebones. They could have at least included the Italian track as an extra.
Overall I'm pleased with it and I've already watched it three times. I just hope a stellar version will be released in the not so distant future.