Right off the recent release of the spectacular Blu-ray presentation of THE THIEF OF BAGHDAD (1961) comes the recent Blu-ray version of ARABIAN ADVENTURE (1979), which, in terms of image quality, is quite frankly the complete opposite of the Steve Reeves classic. How can a film that's newer look this murky? I don't know if it's the film process or anything else but this Blu-ray transfer is disappointing. It looks exactly like the previous version but simply upconverted to HD.
The cinematographer was Alan Hume, so it's definitely not the way the movie was shot. The image of the Blu-ray is very grainy and at times murky. It's very average.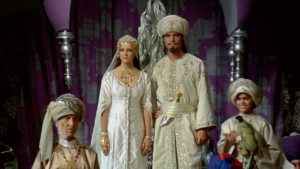 Emma Samms, Oliver Tobias and Puneet Sira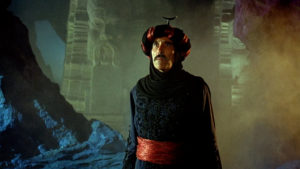 The great Christopher Lee as Alquazar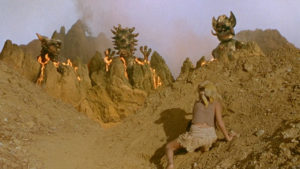 The mechanical, fire-breathing monsters. The same concept as MACISTE IN THE VALLEY OF THE THUNDERING ECHOES (1964)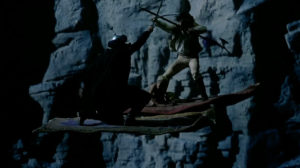 The elaborate flying carpets chase/battle scene during the movie's climax, the highlight of the entire production, still looks murky.