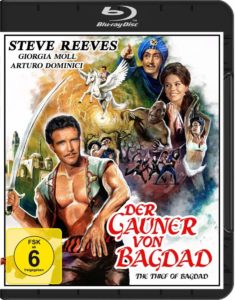 Great news on the Blu-ray front:  THIEF OF BAGHDAD (1961)  starring Steve Reeves, Giorgia Moll, Hedy Vessel and Arturo Dominici will finally get a proper HD transfer. This has been a long time coming. All DVD releases were terrible, which horrible pan & scan or faux widescreen aspect ratios, and murky image quality. This is one of my most sought after titles and it'll be available in Germany. I've already ordered it. This Blu-ray also has the Italian, German and English audio. This is a great Christmas present. In fact, the movie has a very Christmassy feel to it so hopefully I'll receive before the holidays. Thanks to Chris for this tip.
Link to Amazon.de : THIEF OF BAGHDAD
Check out the screengrabs.